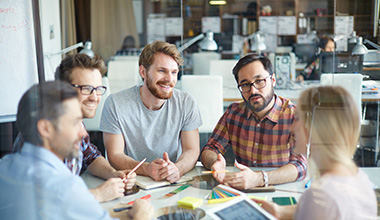 We hear time and time again how competitive the market is when trying to obtain and keep the best employees. Unfortunately, there seem to be large companies that offer unbelievable benefit packages that your business can't compete with. At Volk Insurance Benefits, we will help your company create competitive employee benefits packages within your budget. There are some strange yet amazing, benefits larger companies may offer. Let's make sure you have the right combination to make your business competitive within your particular market.
Studies have shown that benefits can be the tipping point that makes an applicant choose one company over another. After all, you rarely hear someone brag about their new job offer and how the benefits are "ok." Instead, most people will talk with pride about how their company, or a company they are interviewing with, has "amazing" benefits. It's almost like they've reached a certain status by qualifying for jobs with the "amazing" benefits.
Even if you can't afford to pay for everything, offering employees the option of certain benefits is still an advantage. Even better if your company can pay even a part of these options that will make for attractive employee benefits packages. If all of this is making your head spin, don't worry! That's what we're here for – to help customers wade through the options! For 30 years, we've been helping clients create employee benefits packages for their businesses in Fort Collins, Greeley, Longmont, Loveland, CO, Windsor, CO, and surrounding areas. We know the regulations, trends, new options, and more that will create the right employee benefits packages to attract and retain the best talent possible. When you're ready to learn more or are just interested in learning what is available, contact us. We'll let you know about all the options available in employee benefits packages for your company.