There are a number of employee benefits that are nice to provide, but perhaps none is as important these days as insurance, specifically health insurance. Group insurance is the most popular option when it comes to this employee benefit in Loveland, Windsor, Fort Collins, Greeley, Longmont, and the surrounding areas. It is important that you are getting the right kind of group insurance for your needs and talking with our team at Volk Insurance Benefits. As independent insurance brokers we can shop amongst dozens and dozens of insurance companies to find the right fit for your needs. Make the call today to learn more about your options with group insurance.
Advantages of Group Insurance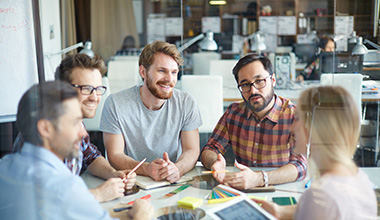 Convenience is just one advantage of companies offering group insurance plans for their employees. It is convenient for the employees because the employer often covers a portion of the monthly costs for the group insurance plans. Premium contributions are often also paid pre-tax, which means a lower tax bill for the employees while still providing insurance coverage.
Employers also can enjoy some advantages of offering a group insurance plan for their employees in the form of business tax breaks. Group insurance plans also help to protect your workforce, which means that you will experience a reduction in the amount of time off needed for healthcare related issues.
Group insurance helps to reduce employee turnover and increase longevity. This in turn means that your team can work cohesively over time, becoming a well-oiled machine in their jobs. This is harder to do when employees are constantly coming in and out of the organization.
Finally, group insurance offerings can still allow flexibility for your employees. Health savings accounts are a popular option with group insurances as it works well for many employees as well as businesses. You can also sweeten the deal by adding other coverages such as dental and vision along with the group insurance.
Aspects to Keep in Mind with Group Insurance
There are often different participation levels with many group insurance plans. These are often referred to as bronze, silver, gold, and even platinum level group insurance. The difference is that as you go up in tiers of group insurance, the insurance will cover more costs, but the premiums are also higher. Deductibles, copayments, and coinsurance all play a role in the overall ongoing costs of group insurance for everyone in the group.
Because there are so many variables when it comes to group insurance and the additions that could come along, it is important that you work with an independent insurance broker in Loveland, Windsor, Fort Collins, Greeley, Longmont, and the surrounding areas. Volk Insurance Benefits has been helping organizations all over the region and they can help yours as well. Give them a call today to schedule time with one of our brokers.