No matter the size of your organization in Loveland, Windsor, Greeley, Fort Collins, Longmont, or the surrounding areas, you want to be able to offer affordable group insurance to everyone. It can be a daunting task, but you can make it easy on yourself by talking with the experts at Volk Insurance Benefits. We are an independent insurance agency that can help you find the right group insurance coverage that will be a great fit for your organization. Call us today to start working with one of our agents on your group insurance policy.
Benefits of Group Insurance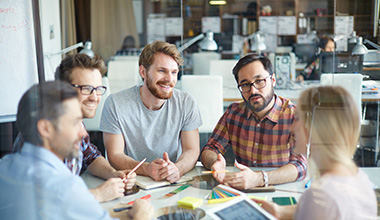 The reason why businesses and other organizations opt for a group insurance plan is that it helps to spread the risk across a pool of insured individuals. This means that premiums are kept low and the insurers can better manage risk when they know who they are covering. Two main varieties of group insurance include health maintenance organizations (HMO) and preferred provider organizations (PPO). Health maintenance organizations help to keep costs low but there are more restrictions on the flexibility of care offered to individuals. Preferred provider organizations offer a greater choice of doctors and specialists but tend to be a bit more costly.
Employees also prefer group insurance because in most cases the employer covers some or in a few cases all of the monthly premiums for the employees. Another benefit for employees is that some employers have premium-only plans that allow the employees to pay the employee portion of the premiums with pre-tax dollars rather than after-tax dollars.
Aspects to Keep in Mind with Group Insurance
As someone who is in charge of finding the right group insurance for your organization, there are things that are important to consider as you evaluate different options. Group insurance has several different aspects that can change the monthly premiums. Deductibles, copayments, and coinsurance all play a role in the overall ongoing costs of group insurance for everyone in the group. It might be worth doing an informal survey to learn how different employees deal with their medical needs.
You may also want to look at adding dental and/or vision coverage in with your group insurance if they aren't included already. These options are nice additions to provide additional coverage without adding any significant cost to the group insurance policy. All of these issues and more can be covered with your Volk Insurance Benefits agent so you understand all aspects of your group insurance policy. Organizations all over Loveland, Windsor, Greeley, Fort Collins, Longmont, and the surrounding areas have found the right group insurance coverage with Volk Insurance Benefits.